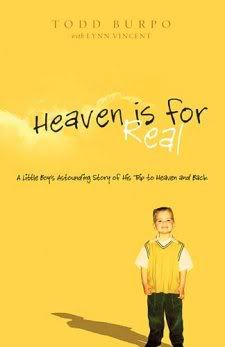 Heaven is for Real
, written by Todd Burpo, was a really nice read. The book is about Burpo's son Colton, who had a near-death experience while having an emergency appendectomy.
Colton was able to describe heaven. He described God's throne and how truly BIG God was and, even more, how big God's love is for His children. He described how Jesus looked, down to what He was wearing and his facial description. He told his parents about who he saw in heaven: Jesus' cousin John who baptized Jesus, the angel Gabriel, his great-grandfather (whom he'd never met), angels, and other people.
He was able to describe in such detail that his parents simply felt that what four-year-old Colton described was indeed true.
Parts of the account drew my skepticism (such as people in heaven with wings), but overall it's a nice story. It would be fitting for those who like to read accounts of visions or near-death experiences. It is not a difficult read; I was able to read it in a 2-hour sitting. It was gripping and entertaining at the same time.
Here's the run-down of what I think of the book:
Ease of reading ..................... 5/5
Supporting Details ................ 4/5
Sufficient Length ................... 4/5
Ability to hold my interest ... 4/5
*Organization of material ..... 4/5
Overall Impression ........ 4/5
*Specific to non-fiction reviews.
I am a member of BookSneeze, a fabulous program through Thomas Nelson. BookSneeze sends members free books to read and keep in exchange for written reviews on a blog and on a major retailer's website (such as Amazon or Barnes & Noble).